Today's SPECIALS
LIKE us on Facebook and receive a Coupon Code that you can use today!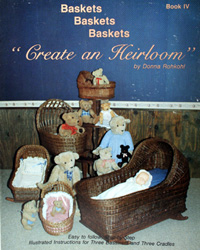 Create an Heirloom Cradle Booklet
Create an Heirloom by Donna Rohkohl is an 8.5 x 11 booklet with instructions for 3 bassinets and 3 cradles for dolls & babies. Only the Large Cradle is suitable for real babies- and is easy to weave. You need to make a wooden base and use three pounds of #6 round, one #5 round reed, and one 1/4" flat oval reed.
Price $5.95
[HOME ] [CHAIR CANE KITS ] [CHAIR CANE] [ BINDER CANE] [CANE WEBBING, KITS and by the Foot] [FIBER RUSH] [SEAGRASS] [REED] [KITTY SPLINE] [TOOLS] [DYES & STAINS] [BOOKS & BOOKLETS] [FOOTSTOOLS] [ASH SPLINTS] [BAMBOO FENCING] [[PLASTIC CANE WEBBING] [SHAKER TAPE] [SEAT WEAVING KITS] [TIPS AND TECHNIQUES] [SUGGESTED LABOR CHARGES] [CHOOSING YOUR SUPPLIES]