Shaker Tape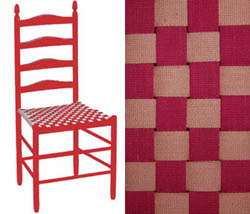 In  Shaker communities, fabric tape was preferred over rush, wood splint, or cane because of it's functionality. It does not dry out and break, nor does it pinch or snag clothing. It is simple and quick to weave and more colorful. A popular traditional technique was to weave two contrasting colors (maroon and beige, for example) to achieve a checkerboard pattern.
The tape itself is heavy-duty 100% cotton canvas webbing, dyed to our specifications with fade-resistance in mind.
Shaker Tape is woven on chair seats with rails, frame or dowel construction, as shown in the ladderback chair above. The chair rails do not have to be a perfect rectangle. This pattern also works well on trapezoid-shaped seats- where the back or front rail is shorter than the opposite side.
Shop Now for Shaker Tape – Wide Variety of Colors
How to Measure your Chair for Shaker Tape Yardage – Use This Formula
1. Measure the front rail between the posts in inches.
2. Measure from the center of the back rail to the center of the front rail in inches.
3. Multiply these together.
4. Divide the resulting figure by 9 if you're using 1″ tape. Or, divide the resulting figure by 5.3 for 5/8″ tape. Answer is the number of Yards needed per chair.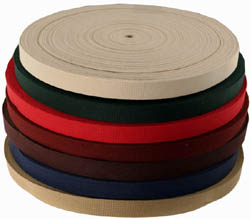 5. Order this number of yards to weave the chair in one color only. Or, order half this amount in each of 2 colors to weave a checkerboard colored chair seat.
Be sure to compare the cost of 1 roll with the cost of the number of yards. If you're buying more than 65 yds of 5/8″ tape (69 yds, 1″ tape), the 75 yard roll price is a better value.
Shaker Tape TIP: If these are Dining chairs, spray with Scotchguard® to prevent food stains. (test bottom first)    
Don't know what to charge for Labor? Visit our Suggested Labor Charges page.
Shaker Tape is also used for basket weaving tote bag handles and straps for basket backpacks.
Shaker Tape